EVERGREEN DENTAL CENTRE
Root Canals & Tooth Extraction in Surrey, BC
When bacteria enter the root canal of a tooth, an infection can cause a great deal of pain and has the potential to spread elsewhere in the body. Root canal treatment is designed to eliminate the infection and seal the root canals, preventing further infections. It also allows you to maintain your natural tooth, often with a dental crown applied to secure the tooth. At Evergreen Dental Centre, we can perform root canal treatments right here in our Surrey dental offices. 
What to Expect from Root Canal Therapy
Root canal therapy can be comfortably completed in our Surrey dental offices. Our dentists will begin the procedure by applying a local anesthetic to the affected area. Once it has taken effect, your dentist will drill into the tooth to reach the tooth roots, cleaning out the infected soft tissue in the root canals. The roots will then be filled with a substance called gutta percha. After a waiting period to ensure there is no recurring infection, we'll have you back to the office to have a dental crown fitted, which will secure your tooth.
We also have sedation density options available for those with fear and anxiety surrounding dental procedures. Ask our dental team to learn more.
When to Visit Our Dental Office in Surrey
Infections in the tooth roots are typically discovered one of two ways: during a routine oral examination when our dentists view dental x-rays of your tooth roots, or when you experience tooth pain and other symptoms. If you are experiencing symptoms of infection, such as tooth pain or gum pain that doesn't resolve, a high fever, or inflamed gums, it's important that you call our dental offices as soon as possible to schedule an examination.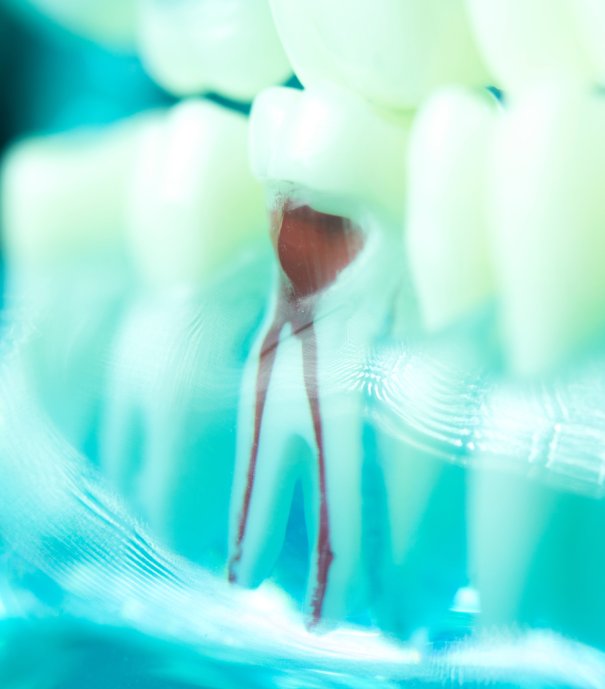 Teeth Extractions Near You
It's always ideal for us to help you maintain your natural teeth; however, some situations necessitate the removal of a tooth or teeth. For most extractions, our dentists can remove milk teeth (baby teeth) or permanent teeth (adult teeth) in our offices using a local anesthetic. Before the extraction, we will review your options for restoration to ensure that we can preserve your solid bite and full smile for many years to come.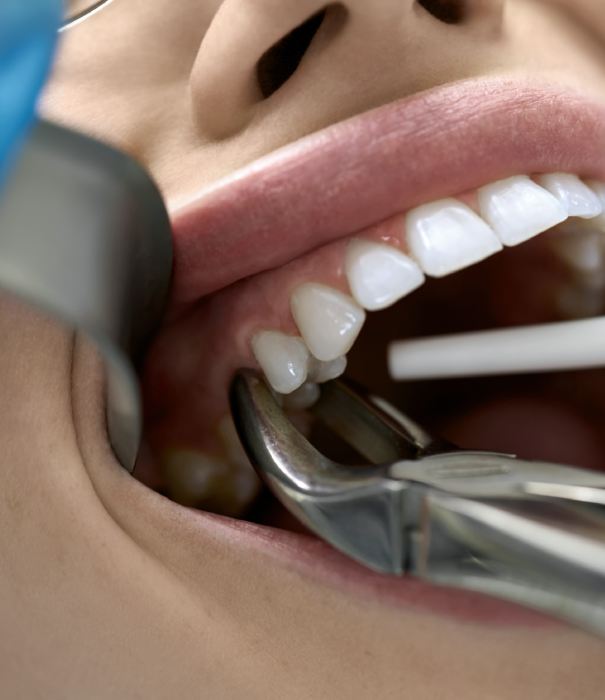 Why Teeth are Extracted
Tooth extractions can be necessary for many reasons, including oral conditions such as gum disease (periodontal disease), infections or decayed teeth, or overcrowded teeth. Injuries or damage to the teeth may also require them to be removed from the mouth. Extractions may also be required as the first step in another treatment, such as an orthodontic treatment like braces.
Wisdom Tooth Extraction at Evergreen Dental Center
Wisdom teeth can often become impacted, and as a result, need to be removed from the mouth. Our dentists can perform simple extractions for wisdom teeth in our Surrey dental offices. Many of our patients prefer to visit an office they are familiar with for this procedure. Our dentists will monitor the development and eruption of wisdom teeth before the procedure and recommend the best path forward based on x-rays.