EVERGREEN DENTAL CENTRE
Cosmetic Dentistry in Surrey, BC
Cosmetic Dentistry Near You
It's hard to underestimate the value of beautiful, white teeth. Our dentists use several cosmetic dental tools and techniques to correct cosmetic issues ranging from discolouring and stains to issues in tooth size, shape, and spacing. No matter what is keeping you from showing off a bright smile, we have solutions that can help; book your cosmetic dental consultation today to learn more about your options.
A dental crown is a tooth-like "cap" that is placed over the natural tooth to protect it. Dental crowns can be necessary for a number of reasons, ranging from restoring a broken tooth to shielding a tooth after a root canal procedure. Crowns can also be used for cosmetic purposes. Placing dental crowns is a common procedure that can be comfortably completed in our Surrey dental offices.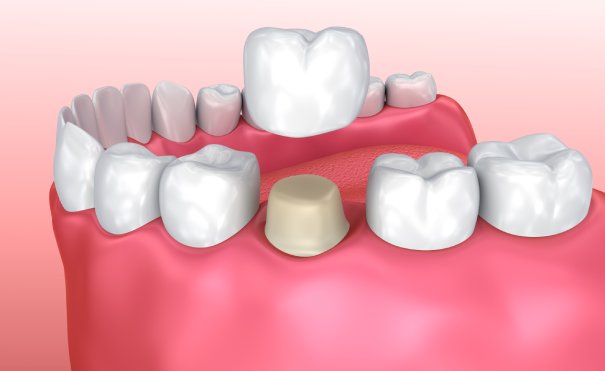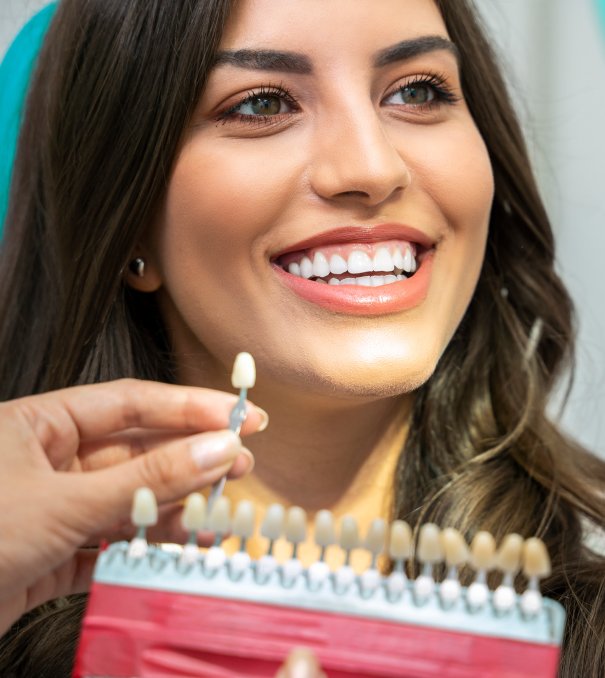 Take-Home Teeth Whitening
Getting whiter teeth at home doesn't need to be messy, time-consuming, or disappointing. Our dental offices can provide you with professional-grade teeth whitening kits. These include everything you need to safely achieve dentist-level teeth whitening from your own house. 
Professional-Grade Tooth Whitening
If you have ever experienced the frustration of getting mediocre results from over-the-counter teeth whitening remedies, you'll be amazed by the results you can get with our kits. Our professional-grade teeth whitening kits have stronger whitening properties. Just a few quick at-home treatments can whiten your teeth by several shades. 
Get Sparkly, White Teeth at Home
Whitening your teeth can be surprisingly convenient when you have the right tools. To get your kit, contact our offices or ask us about whitening your teeth at your next appointment. Our experienced dental team will tell you how to use your kit for the best whitening results. 
Dental veneers are a popular option for cosmetically enhancing your smile. Veneers can be used in a variety of ways to correct multiple cosmetic flaws simply and quickly. Whether you want to visibly alter the size, shape, spacing, colour, or alignment of your front teeth, veneers can help. Talk to our dental team about how we can help keep you smiling with dental veneers.
What Veneers Are & How They Work
Veneers are often described as tooth-like "shells" that are applied to the frontmost teeth in the mouth. Each shell is extremely thin but designed to be durable enough to withstand chewing and biting. These shells are placed and secured over the front sides of the natural teeth. Some veneers require very little prep work, while others require some of the tooth enamel to be removed so the veneers sit flat against the teeth.
Cosmetic Dentistry Options
When it comes to cosmetic options, veneers are extremely versatile, making them a desirable option for a complete smile makeover. If you have been considering enhancements to your smile,  reach out to our dental team so we can create a treatment plan that helps you reach your smile goals.