Surrey General Dentistry Team Focuses On Early Oral Health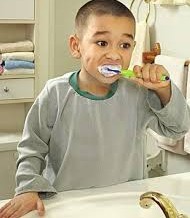 There are a lot of health questions when it comes to our children, especially with their teeth and oral hygiene. When should I start taking them to the dentist? How do I prevent cavities on their teeth? Here is a handy link with lots of great questions and answers regarding baby and toddler oral health.  There's also an educational video by the British Columbia Dental Association about maintaining your child's good dental health.
Your Surrey General Dentistry Team
When it's time for your child to come in for a check up and cleaning, call Evergreen Dental Centre to book an appointment. We welcome patients of all ages, and we understand how important early oral health is.
Our Surrey general dentistry team works with children to teach them more about oral hygiene and help them maintain their oral health with the appropriate preventive treatments.
We offer a variety of services beyond preventive treatments for children and young patients depending on their needs.
Working With Children
We have experience working with children and younger patients. We use advanced technology to help them feel comfortable during their treatment.
Our team also focuses on gentle dental treatment techniques to help your children with their smile.
Beyond the kind of treatment your child might need, we also understand that children schedules require more flexibility on our side. To help you book an appointment at a convenient time, we are open after school hours and on Saturdays. We understand your scheduling requirements.
Request An Appointment Today
Contact us, your Surrey general dentistry team, and find out more about how we can help your child, and when you can book your appointment. We will work with you to find the most suitable time slot possible.