Good oral health starts early!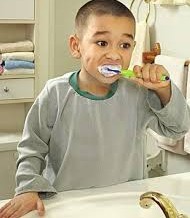 There are a lot of health questions when it comes to our children, especially with their teeth and oral hygiene. When should I start taking them to the dentist? How do I prevent cavities on their teeth?  Here's a handy link with lots of great questions and answers regarding baby and toddler oral health.  There's also an educational video by the British Columbia Dental Association about maintaining your child's good dental health.
When it's time for your child to come in for a check up and cleaning, call Evergreen Dental Centre to book an appointment.